Best Long Distance Movers in Houston
Houston Long Distance Moving Services
Arpin America offers a variety of affordable and flexible long-distance moving services in Houston and the surrounding areas. Keep reading to discover our moving and storage solutions that will allow you, your family, or your business to have the easiest Houston long-distance move possible.
Residential Moving: When moving to a new home, using expert movers in Houston is key to
ensuring your household items arrive at your new home safely, securely, and efficiently - no matter where in the country you're heading to. With Arpin America's expert team of customer service representatives and moving crews, you'll be assisted and guided through the moving process at every point to give you the confidence you need in your move. Our customizable services give you exactly what you need for the highest quality relocation possible.
Employee Relocation: We know that moving your employees is a delicate process that needs to
emphasize attention to detail and care every step of the way. That's why our streamlined employee relocation services are designed to bring your company's staff anywhere they need to go with open communication and top-tier professionalism at every turn.
International Moving: International moves, whether residential or commercial, are best done
with experienced international movers who are familiar with the process of shipping and moving items out of or
into the United States and other countries. Arpin America's team has given our clients the best quality
international moves countless times over our many years in business and will be on your side to handle customs and coordinate the safe transportation and delivery of your items overseas. Additionally, as Bekins Van Lines' largest agent, we're able to more easily coordinate with moving companies globally to streamline your relocation.
Office Moving: Relocating to new office spaces calls for expert office movers who can aid not
just in the transportation of your items, but in the planning, disassembly, and reassembly of your space. From
furniture moving to IT and electronics moving services, Arpin America's team has you covered.
Packing Services: Many dread the packing process most when it comes to moving, but you can make
your packing process easy, safe, and efficient with our professional packing services. Our highly trained staff
will pack even the most fragile items with the utmost care and attention to detail to ensure their safe arrival.
Our professional packers and high-quality materials will bring you the peace of mind you need to ensure the safe
arrival of your items.
Storage Solutions: Looking for the best Houston storage solutions? Whether looking for short or
long-term storage options, our secure warehouse will give you the security, flexibility, and confidence you need
from your storage provider. No matter how much you have to store, our warehouse will house your items in locked,
private, secured containers that will ensure their safety throughout the duration of your storage period.
Delivery & Unpacking: Our packing services don't stop after your truck is loaded - trust
our highly trained staff to unpack and set up your items in your new home or business efficiently and safely.
We'll even remove your boxes after finishing to rid you of pesky post-move trash day hassles.
Delivery & Unpacking: Our packing services don't stop after your truck is loaded - trust
our highly trained staff to unpack and set up your items in your new home or business efficiently and safely.
We'll even remove your boxes after finishing to rid you of pesky post-move trash day hassles.
Arpin America's expert team of interstate moving professionals will be your go-to when it comes to any interstate moving need. Our experienced coordinators will guide you through every aspect of your interstate move and will give your relocation the attention to detail and efficiency it deserves so you can focus on settling into your new state, instead of how your items will get there.
Out of state moving can be a daunting task, especially if you have a particularly large move or have never done so before. That's why the professional team of experienced movers at Arpin America will do everything we can to ensure the safe transportation of your items regardless of where you're headed in the country. Our Houston out of state moving services allow you to sit back and relax while our team takes care of every aspect of your process with care and the open communication you need to have confidence in your move.
Looking to head across the country? With Arpin America's cross-country moving services, your move will be a breeze. Our professional moving crews will give you the best possible packing, storage, and moving services so that you can know your items are in good hands. Instead of stressing about a large undertaking like this, take a load off and let us handle the coordination and heavy lifting (literally!) involved in your cross-country relocation.
Benefits of Long-Distance Moving Services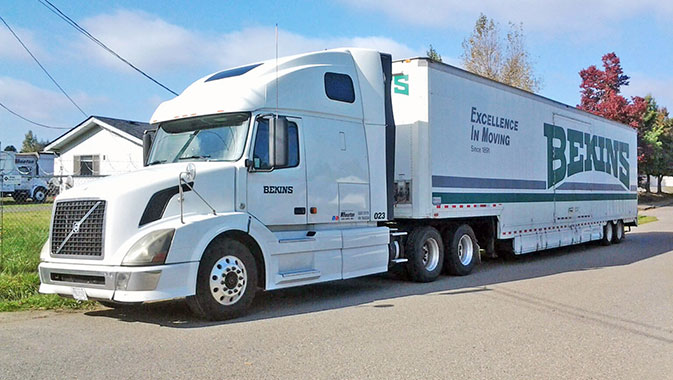 If you're not fully convinced you need long-distance movers to assist in your move, consider all of the different factors involved in interstate and cross-country moves.
From packing to transportation and loading and unloading, this process proves to be a long, tiring one for those not experienced in the field. Though it's possible to do an interstate move on your own, having professionals coordinate your relocation every step of the way allows you to save a lot of time, money, and stress in the short and long run.
What do long-distance movers bring you?

Experience and expertise: With professional long-distance movers let you relax and sit back while experienced crews lean on their knowledge and expertise to coordinate, plan and carry out your entire relocation process. From logistics and packing to loading, transportation, and delivery, our crews ease your stress and give you confidence in your moving process.
Efficient transportation: Arpin America's team of highly-trained and experienced professionals makes moves of any size or distance easy and efficient. From packing to handling, transportation, and delivery, our knowledgeable staff will get your items to you safely in no time.
Safety: Long-distance moves come with a lot of variables throughout their duration, including long travel hours and the potential for your items to be damaged when not in trained and careful hands. Absolve yourself of this worry when you work with Arpin America's professional crews, who put the safety and protection of your items first throughout their journey.
Peace of mind: When transporting your items on a long-distance journey, you want to know they're being moved in well-maintained, high-quality vehicles driven by highly experienced drivers. With a DIY move, you have to rely on yourself and a rented truck to take on this arduous journey. Instead, save yourself stress and tiredness by working with our efficient long-distance services. Our well-maintained trucks and highly trained drivers will ensure the safe and streamlined delivery of your items.
Tips for Successful Long-Distance Moving

Practice careful planning: It's important to start planning your move as soon as you learn of it, especially in the case of long-distance or international moves. Starting as early as possible not only gives you the maximum amount of time to coordinate your move but allows you to make this a gradual and less stressful process instead of rushing through things at the eleventh hour.
Declutter your home: Going through all of your items and eliminating things you don't want or use anymore can make your long-distance move infinitely easier - and more affordable! Sort through your items and determine what you'll want to keep, sell, donate, or get rid of to give yourself a fresh start and prioritize the things you need and love. This not only lets you rid yourself of unnecessary clutter or items you've long forgotten about but also cuts down on moving costs.
Create realistic timelines: Successful moves aren't rushed, and giving yourself plenty of time to get everything you need to do done will make your move more straightforward and stress-free than ever. Giving yourself a realistic timeline with plenty of wiggle room for pivots will let you stay organized and stay as stress-free as possible during your relocation.
Have a packing strategy: Ensuring the safety of your items is all in the packing. If you're not using professional packing services, keeping your items protected and moved safely should be a top priority. Always make sure to use high-quality materials that give items enough padding and that minimize movement. Pack like items with like, and always leave weight evenly distributed throughout.
Utilities & changes of address: Though this can easily call through the cracks, make sure to contact your utility companies to coordinate your water, gas, electricity, and internet services at your new home (and discontinue them at your present address). Additionally, make sure you've updated your address with all important institutions, like your bank and credit card companies.
With the right long-distance moving company in Houston on your side and the right moving strategy on your side, coordinating the best long-distance move is in your future. Contact Arpin America today to see what we can do to make your move as safe and efficient as possible.