Best Long Distance Movers in Dallas
Services Offered for Long Distance Moving

Interested in exploring the various long-distance moving services offered by Arpin America? Keep reading to discover our wide array of comprehensive solutions!

Residential Moves: When you're relocating to a new home, Arpin America has the expert services you need to get your items there safely and seamlessly. No matter how far away you're moving, our team of professional movers is ready to assist you with a customized plan. Our affordable, reliable residential services can vastly improve the quality of your relocation!
Corporate Relocations: Is your company looking to relocate an existing employee or new hire? Arpin America's corporate relocation service can streamline the process and make it easier than ever to bring your company's talent where they need to go. Allow our relocation consultants to get the job done with the utmost care and professionalism.
International Moves: Moving out of the country? If you're searching for help with an international move, Arpin America's team of movers has got you covered. We know international moves have their own unique set of difficulties, so we have the tools to make the process easier. Plus, as the largest agent for Bekins, we have working relationships with moving companies on a global scale, allowing us to streamline your relocation.
Office Moves: For businesses relocating to a new office space, our team of experts is ready to help with the expertise you need. We've handled commercial moves across various industries, and Arpin can provide furniture moving, cubicle disassembly and reassembly, IT and electronics aspects, and much more.
Packing: Packing can be the most difficult part of any relocation, but with Arpin America, you don't need to worry about it! Our trained moving staff can handle packing even the most fragile specialized items, giving you peace of mind to trust that your belongings won't sustain damage in transit. Our high-quality packing materials offer the best protection for your items.
Storage: Searching storage solutions? Whether you need long-term or short-term options, our secure storage warehouses can offer you the security, flexibility, and convenience you need. Arpin can provide you with a locked, private container within our warehouse.
Delivery & Unpacking: After a move, allow Arpin America to handle the task of unpacking for you. We work with some of the very best white glove agencies to unpack your boxes, remove empty boxes and packing materials, set up electronics, hang wall-mounted items, and so much more.
Automobile Moving: Looking for a service to transport your automobiles when you relocate? Count on Arpin America to safely move your vehicles to your new home via an open trailer or an enclosed truck. Our relocation coordinators will schedule your vehicle relocation at a convenient time for you.
When you're planning an interstate move, allow Arpin America to assist you through every step of the process. Our professional relocation coordinators are available to you during your move for your utmost convenience, empowering you to complete your most effortless relocation ever! We commit ourselves to taking the guesswork out of moving for our customers' convenience. Through Arpin America, moving to a different state has never been easier.

The professionals at Arpin America know that moving out of state can be a difficult task. That's why our team of experts is equipped to help you through the entire transition, offering services that can positively transform your relocation. We provide the very best in moving, packing, and storage to the Dallas-Ft. Worth regions, so you can rest assured that your long-distance move is in good hands.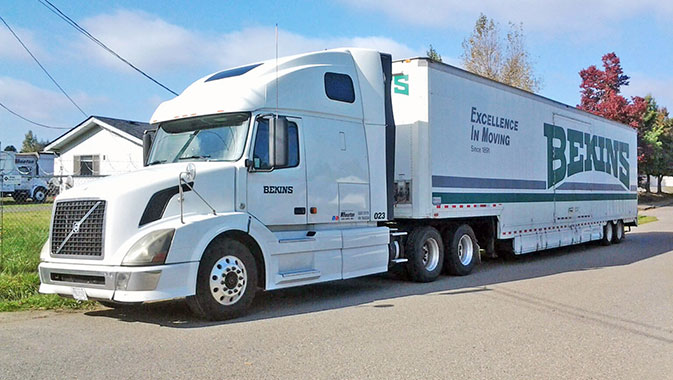 Moving from coast to coast? With Arpin America, a cross-country move has never been easier. Our crew of professional movers can streamline your long-distance relocation for the best results, saving you the headache of handling your move alone. Allow our menu of comprehensive, high-quality services to transform your relocation from a stressful event to a walk in the park!

Benefits of Long-Distance Moving Services

You might be wondering, "Why do I need to hire professionals when I can complete my move myself?" Although it's possible to DIY your interstate move, utilizing the help of professional movers will make the task infinitely easier and less stressful. Discover a few reasons why hiring Arpin America's experts can vastly improve your relocation experience.

Valuable expertise: When working with a professional moving company, you can count on their team of professionals to offer you the experience and expertise necessary to complete a successful move. Long-distance moving companies can handle all aspects of a move, including logistics, packing, loading, transportation, and unloading. This greatly reduces your stress throughout this transitional period.
Efficient services: Because moving companies provide services by trained professionals, you can expect maximum efficiency when you rely on their solutions. Long-distance movers have the skills and techniques needed to complete packing, handling, and transportation efficiently and knowledgeably.
Protected items: During a long-distance move, one of the most important considerations is the protection of your items. Because they will be traveling for longer amounts of time, there is more of an opportunity for items to get damaged. However, with the assistance of Arpin America, you can expect your items to be safe and protected, whether through meticulous packing services or careful moving solutions.
Reliable transportation: Long-distance moving companies have well-maintained moving trucks and transportation networks, ensuring reliable and timely delivery of belongings to the new location. This reduces the risk of delays and allows individuals to plan their moves more effectively.
Final Tips for a Successful Long-Distance Move

Plan in advance: Start planning your move well ahead of time for the best outcome possible. To plan thoroughly, create a detailed moving checklist and timeline to keep track of tasks and deadlines. This will help you to stay organized and reduce last-minute stress as you approach moving day.
Declutter your home: Long-distance moves can be expensive, so take the opportunity to declutter your belongings before the move — an effective way to cut costs and make your move easier. Sort through your items, and donate, sell, or discard anything you no longer need or want. This will help reduce the amount of items you need to move, reducing the price spent on the assistance of a moving company.
Allow plenty of time: To have a straightforward, successful long-distance move, you should allow plenty of time to get the job done right. Rushing through tasks such as packing can make it difficult for you to stay organized and can increase your stress levels. Instead, give yourself as much time as possible to get ready for the big move.
Pack carefully: One of the most important considerations during a long-distance move is keeping your belongings safe in transit. Pack with protection in mind, and be sure to use enough padding to thoroughly protect your items. You should pack in a manner that limits the amount of movement your belongings will experience while being transported.
Transfer utilities: Contact utility companies in your new area to arrange for services like electricity, water, gas, internet, and cable. Schedule installation or activation dates well in advance to ensure a smooth transition without any delays.